Operations
The Portage Lake wastewater treatment plant was designed to treat a flow of 3.1 MGD, current average daily flow is 2.2 MGD, while serving a population of nearly 14,000 in the communities of Houghton, Hancock and parts of Portage, Franklin and Quincy Townships. Almost all of the flow comes from domestic and commercial sources. The plant does an outstanding job of pollutant removal consistently removing 98% of the biochemical oxygen demand and suspended solids, and more than 95% of the phosphorus from the incoming wastewater. Major treatment processes include preliminary treatment, primary clarification, phosphorus removal, biological treatment utilizing the activated sludge process, final clarification, and ultraviolet disinfection prior to discharge to Portage Lake, a part of the Keweenaw Waterway, which flows into Lake Superior at Keweenaw Bay. Residuals are anaerobically digested, dewatered by belt filter presses and applied, as biosolids, to area farm fields and the Mason Sands mine tailings area in Mason, MI as a soil amendment and to help promote vegetation growth.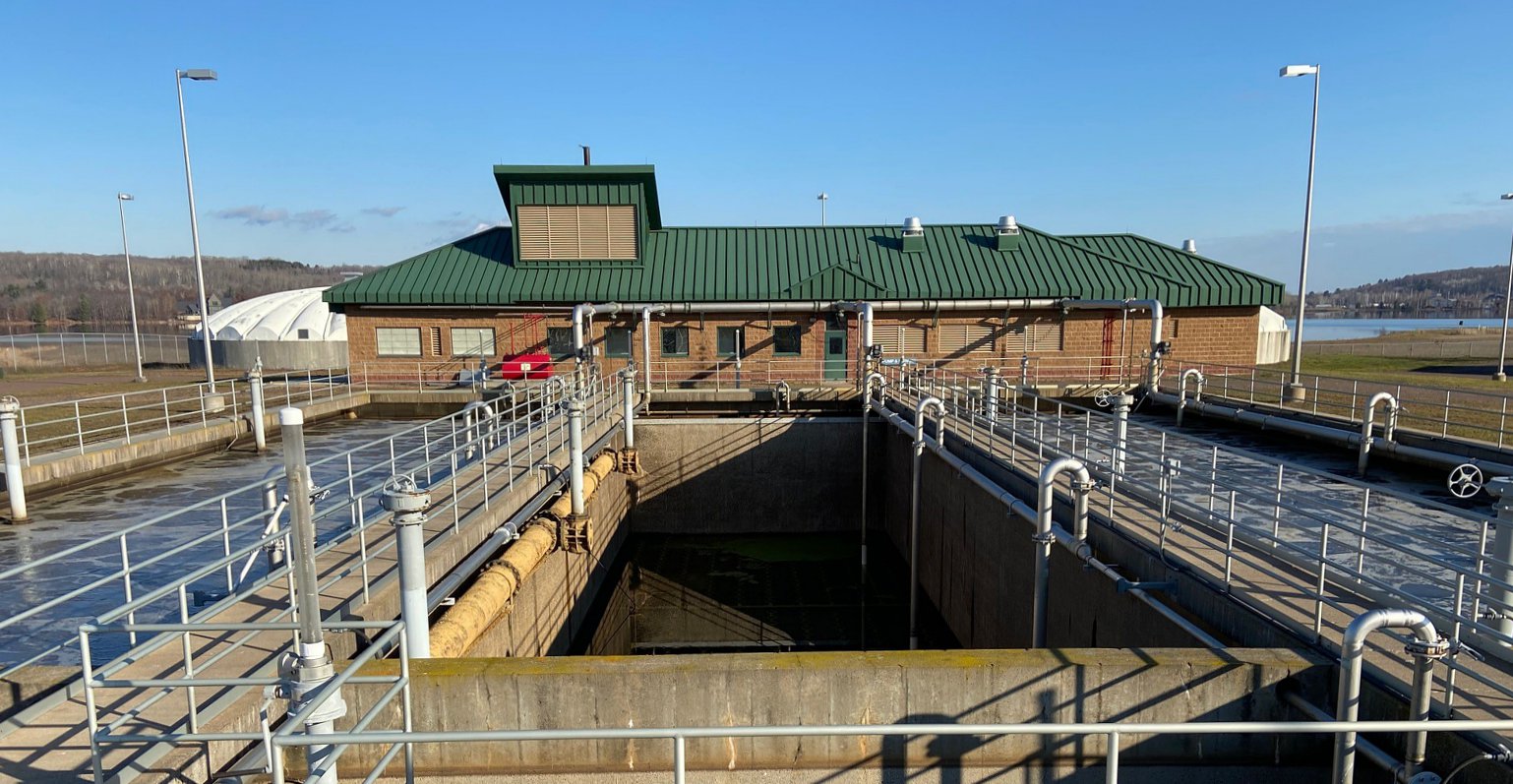 Photo description: Secondary Treatment, Activated Sludge
The Portage Lake Wastewater Treatment Facility is managed by:
Zane MacKenzie, Plant Superintendent/Facility Manager
906.523.5017
906.523.5816 [fax]
manager@plwsa.org
Board Members:
Neil Hutzler, PhD, P.E., B.C.E.E., Chairman
Stanley Vitton, PhD, P.E., Vice-Chairman
David Plowe, Treasurer and Secretary
Robert Megowen, Member
Mary Babcock, Member

Employees:
Mark Jakovic, Laboratory Technician/Operator
Robert Lawson, Laboratory Technician/Operator
Mark Zenner, Maintenance Mechanic/Operator
Dan Dalhgren, General Laborer/Operator
Bryan Mattila, General Laborer/Operator

The Portage Lake Water & Sewage Authority
(PLWSA) was established in 1964...
by the cities of Hancock and Houghton for the purpose of constructing and operating a joint use wastewater treatment facility. The facilities that were constructed included a lift station for each city to convey wastewater to a common site and a wastewater treatment plant located on the south shore of Hancock.
Planning was initiated by the PLWSA in 1987 when it became evident that the existing treatment plant was operating at flows in excess of the design flow and was not able to treat all of the excess flow that was being generated by both cities.